Area Information and Upcoming Events
There is something for everyone here in Panama City Beach. Explore a multitude of attractions, world class shopping, fabulous local dining options, nearby golfing, watersports and beach activities. Check our events calendar for upcoming concerts, festivals and special events. See why Coral Reef is everyone's favorite family vacation destination!
Dining
Captain Anderson's (Named among America's top 50 Restaurants)   Website
Schooners Last Local Beach Club     Website
J. Michaels Dockside Bar and Grill    Website
Uncle Ernie's in St. Andrew's Bay   Website
Firefly     Website
Liza's Kitchen     Website
Andy's Flour Power     Website
Pineapple Willys     Website
Saltwater Grill     Website
Margaritaville in Pier Park     Website
Moe's Barbeque    Website
Chicken Salad Chick in Pier Park   Website
The Back Porch Seafood in Pier Park     Website
Dee's Hangout  Website
Diego's Burrito Factory    Website
Captain's Table in St. Andrew's Bay   Website
Dolce Italiano  Website
The Grand Marlin
Attractions
Pier Park
St. Andrews State Park
Gulf World Marine Park
Shipwreck Island Water Park
Wonderworks
Zoo World
Race City
XD Dark Ride Experience (In Pier Park)
Dave & Buster's
Miniature Golf
The Grand Movie Theatre and IMAX     Website
Helicopter tours
Frank Brown Recreation Park
Watersports and Adventures
Dolphin Encounters
Boating excursions
Pirate Cruises
Jet skiing and Parasailing
Chartered Fishing trips
Snorkeling
Shell Island
Golfing and Tennis
Sheraton Bay Point Resort Golf and Tennis
Hombre Golf Club
Signal Hill Golf Club
Holiday Golf Club (Offering a Championship course and Par 3 course)
Upcoming Events
 
Recurring weekly on Sunday, Saturday
Capt. Anderson's Marina
5550 North Lagoon Drive, Panama City Beach, FL 32408
Times: From: 8:00 AM to 2:00 PM
2018 AMERICANA MUSIC AT THE LODGE

LOCATION
23937 Panama City Beach Pkwy.
Panama City Beach, FL
HOSTED BY
EVENT INFORMATION
January 6, 2018 – March 3, 2018
Recurring every 2 weeks on Saturday
Time: 6:00 PM
Price: FREE
The 2018 Americana Music at The Lodge concerts at Camp Helen State Park will kick off on Saturday, January 6th with The Currys.  These young men are a delight to see, hear and simply enjoy.   Americana Pop in its finest form.  It will be a great way to begin another season of some of the best Americana Music in the country.
Concerts start at 6:30 and the doors open at 6pm.   You will be given a number upon your arrival at the lodge and the opportunity to select your seat by placing your number on a chair.   Then, feel free to roam around Camp Helen and enjoy the beauty of our park.
While the concerts are free, the Friends of Camp Helen request a donation to help with the continuance of the series and special projects that benefit the park.  Refreshments will be available for a donation.
WINTER RESIDENTS

Winter visitors looking for great weather and a lot of FUN make their home in Panama City Beach when temperatures farther north make dreams of the beach dance in their heads! Sometimes called "snowbirds," guests travel from all over to make their winter "nests" by the white sands of Panama City Beach, where social events, educational classes, arts & crafts, and parties keep everyone focused on fun in the sun. And don't forget about the special deals and discounts!
Friendly staff at Visit Panama City Beach are here to help you find events, attractions and deals during your stay in Panama City Beach. There are so many things to do in Panama City Beach that you'll forget all about the cold weather back home!
Here are just a few:
WINTER RESIDENT APPRECIATION DAYS
Visit Panama City Beach is celebrating Winter Guests this season. Winter residents are treated to complimentary coffee, donuts and giveaways. Come celebrate with us!
This season's Winter Resident Appreciation Day will be:
Thursday, January 18, 2018
Thursday, February 8, 2018
Thursday, February 22, 2018
Winter Resident Appreciation Days will be held at the Lyndell Center at the Panama City Beach Senior Center.
HOMECOMING DANCE AND SOCIAL
Reconnect with your Panama City Beach family at the annual Homecoming Dance and Social. Our Winter Residents love to dance and have fun, so we make sure they have plenty of opportunities!
This year's Homecoming Dance and Social will be at Laketown Wharf on Tuesday, January 23, 2018 from 4-9pm.
WINTER RESIDENT SENIOR PROM
This annual event is one of the biggest winter resident events of the year, and you don't want to miss it! This is the event during which the winter resident prom king and queen are announced.
This year's Senior Prom will be at Edgewater Beach and Golf Resort on Tuesday, February 13, 2018 from 4-9pm.
WINTER RESIDENT GRAND FINALE
The Winter Residence Grand Finale is a farewell/appreciation event to all of our Winter Residents for choosing Panama City Beach as your home away from home. This will wrap up all the Winter Resident activities with a bang and entertainment you will never forget.
The 2016 Panama City Beach Winter Resident Grand Finale will be at Sheraton Bay Point on Monday, February 26, 2018 from 4-9pm.
MYSTERY GOLF CHALLENGES
The Mystery Golf Challenges give our avid winter golfers another reason to hit the links (as if they needed one). It's a chance to win prizes, chime in on what they'd like to do or see at local golf courses, and just enjoy the excitement of a little bit of mystery around the next dogleg!
There is plenty more to do in Panama City Beach this winter, be sure to check out our event calendar for all events.

SENIOR MONDAYS
LOCATION
15412 Front Beach Rd.
Panama City Beach, FL
HOSTED BY
EVENT INFORMATION
January 8, 2018 – February 26, 2018
Recurring weekly on Monday
Time: 10:00 AM to 3:00 PM
Price: $15 – Senior Snow Birds 55+
The Emerald Coast Boat
& Lifestyle Show!
March 2 – 4, 2018 at Aaron Bessant Park
Adjacent to Pier Park,
Panama City Beach, FL
More than Just a Boat Show
Fishing, Fitness, Boating, Cycling, Kayaking, Outdoors, Paddleboarding, Personal Watercraft
This land based show will feature boat displays from all major manufacturers and the top dealers representing the latest in boats, high tech engines, electronics and marine accessories. Boats ranging from entry level bow riders and center consoles all the way up to the next generation 42′ center consoles with quad outboards that have become so popular. Buyers will find everything in-between.
But making it much more than a boat show, this event features everything for the kind of active, outdoor beach living so popular along the Emerald Coast. From stand up paddleboards and fishing kayaks, to outdoor kitchens, diving, active wear and beach cruising bicycles. In short, all the great things residents and visiting tourists enjoy on and around the water along the beaches is available at this event.
Show Dates & Time:
March 2, Friday – 10 am to 6 pm "Locals Day"
March 3, Saturday – 10 am to 6 pm "Ladies Day"
March 4, Sunday – 10 am to 5 pm "Military Appreciation Day"
Ticket Prices:
Adults – $10
2 Day Pass – $15
Kids (12 and under) – Free
Military (active and retired) – $5 entry each day with ID
Locals Day (Friday) – $5 entry with local ID
Ladies Day (Saturday) – Ladies $5 entry
EMERALD COAST CRUIZIN' CAR SHOW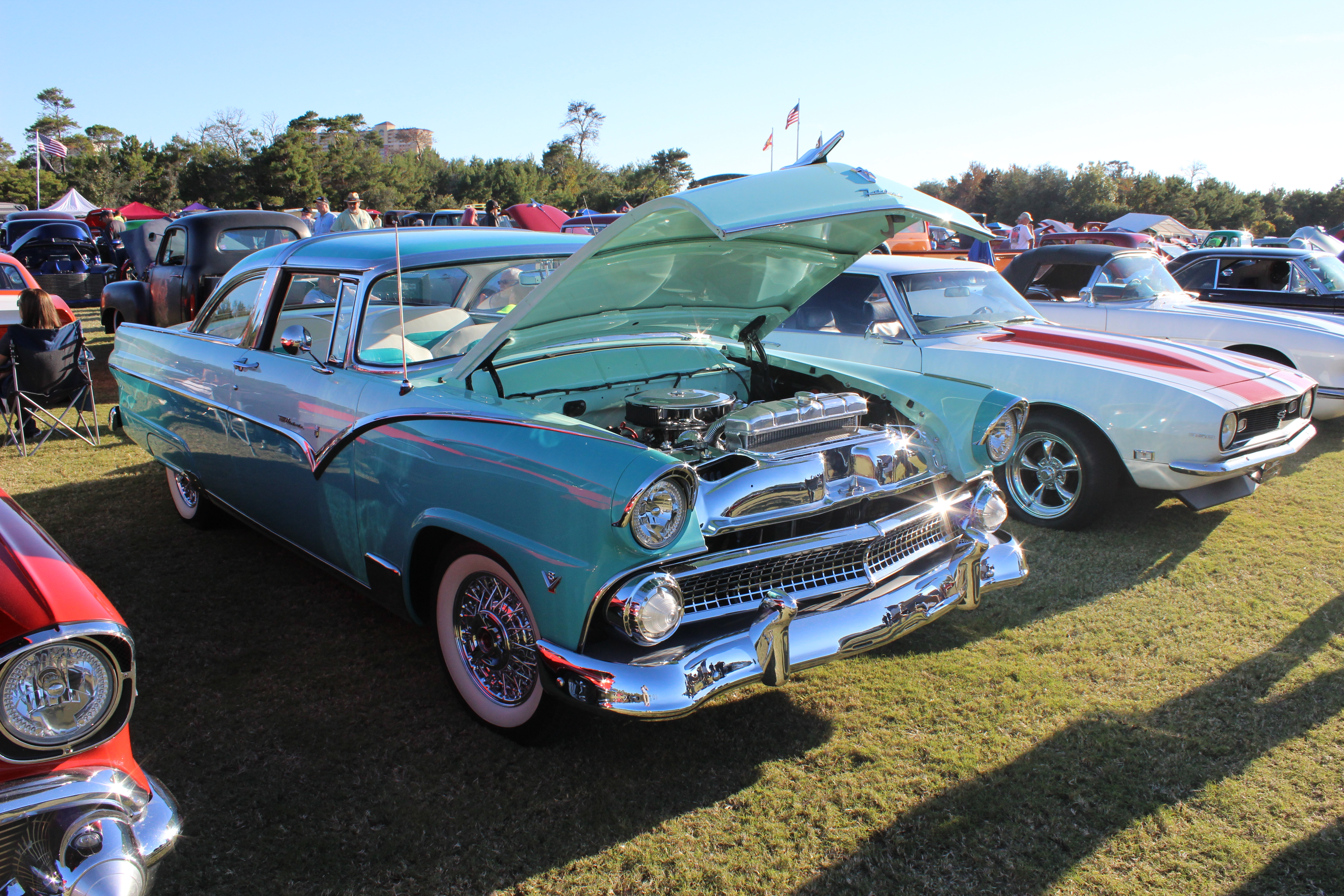 LOCATION
600 Pier Park Drive
Panama City Beach, FL
HOSTED BY
EVENT INFORMATION
March 7, 2018 – March 10, 2018
Emerald Coast Cruizin – The South's Best Blast from the Past family fun event. Thousands of classic cars, hot rods, custom cars and trucks make way to beautiful Panama City Beach. This year's event will be held at Aaron Bessant Park next to Pier Park.
UNWINED
LOCATION
600 Pier Park Drive
Panama City Beach, FL
HOSTED BY
EVENT INFORMATION
March 23, 2018
A two-day Southern garden party in Aaron Bessant Park featuring superb craft beer, spirits, and wine from around the world, plus culinary creations by Northwest Florida's leading chefs.

Seabreeze Jazz Festival, April 18-22, 2018
Named a "Top 10 Jazz Festival in the USA" by JazzIZ Magazine and recently nominated as "Best Jazz Festival" at the Oasis Smooth Jazz Awards, the Seabreeze Jazz Festival in Panama City Beach combines the top national smooth jazz artists with a full weekend of fun, sun, great beaches, and good times – all on the west end of Panama City Beach. The event now attracts over 20,000 fans from the USA, Canada, and Europe for the ultimate performance-packed weekend of jazz.
Join us April 18-22, 2018 in Panama City Beach for one of the south's premier spring events! Purchase tickets here.
The 20th Anniversary celebration of Seabreeze Jazz Festivals will be one you won't want to miss.
CLICK HERE TO SEE FULL SCHEDULE
BRIAN CULBERTSON ~ BONEY JAMES ~  KOOL AND THE GANG ~ PETER WHITE  ~ EUGE GROOVE ~ NICK COLIONNE ~ GERALD ALBRIGHT ~ COMMODORES ~ RICK BRAUN ~ JEFFERY OSBORNE ~  SPYRO GYRA ~ DAMIEN ESCOBAR  ~ RICHARD ELLIOT ~ CINDY BRADLEY ~ PEABO BRYSON ~ NAJEE ~ ERIC DARIUS ~  JAZZ FUNK SOUL ~ JEFF LORBER ~ PAUL JACKSON JR ~ EVERETTE HARP ~ THE FAMILY STONE ~ CHRIS STANDRING ~ KEIKO MATSUI  ~ VINCENT INGALA ~ LINDSEY WEBSTER ~ BEN TANKARD ~ URBAN JAZZ COALITION FEATURING PHIL DENNY ~ RAGAN WHITESIDE