Area Information and Upcoming Events
There is something for everyone here in Panama City Beach. Explore a multitude of attractions, world class shopping, fabulous local dining options, nearby golfing, watersports and beach activities. Check our events calendar for upcoming concerts, festivals and special events. See why Coral Reef is everyone's favorite family vacation destination!
Dining
Captain Anderson's (Named among America's top 50 Restaurants) Website
Schooners Last Local Beach Club Website
J. Michaels Dockside Bar and Grill Website
Uncle Ernie's in St. Andrew's Bay (Under remodel) Website
Firefly Website
Liza's Kitchen Website
Andy's Flour Power Website
Pineapple Willys Website
Saltwater Grill Website
Margaritaville in Pier Park Website
Moe's Barbeque Website
Chicken Salad Chick in Pier Park Website
The Back Porch Seafood in Pier Park Website
Dee's Hangout Website
Diego's Burrito Factory Website
Captain's Table in St. Andrew's Bay (Under remodel) Website
The Grand Marlin
Jesse's Place
Attractions
Pier Park
St. Andrews State Park
Gulf World Marine Park
Shipwreck Island Water Park
Wonderworks
Zoo World
Race City
XD Dark Ride Experience (In Pier Park)
Dave & Buster's
Miniature Golf
The Grand Movie Theatre and IMAX Website
Helicopter tours
Frank Brown Recreation Park
Watersports and Adventures
Dolphin Encounters
Boating excursions
Pirate Cruises
Jet skiing and Parasailing
Chartered Fishing trips
Snorkeling
Shell Island
Golfing and Tennis
Sheraton Bay Point Resort Golf and Tennis
Signal Hill Golf Club
Holiday Golf Club (Offering a Championship course and Par 3 course)
Upcoming Events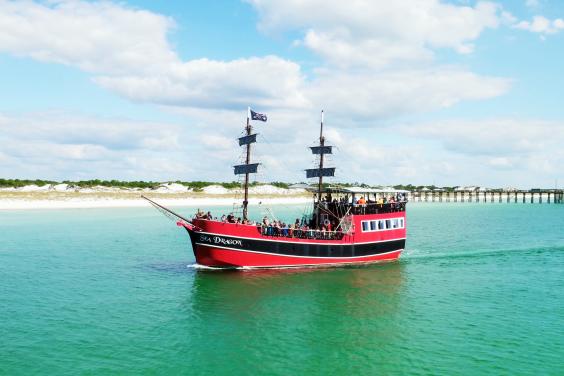 Pirates of the High Seas Fest

Panama City Beach, FL 32413

Dates: October 9, 2020 – October 11, 2020
Recurrence: Recurring daily
Location: Panama City Beach
Columbus Day weekend will bring waves of fun-filled adventures to Panama City Beach with the annual Pirates of the High Seas Fest. The festival will take place virtually this year on our website and Facebook page. We'll be holding a scavenger hunt and giving away Real. FUN. Pirate Swag!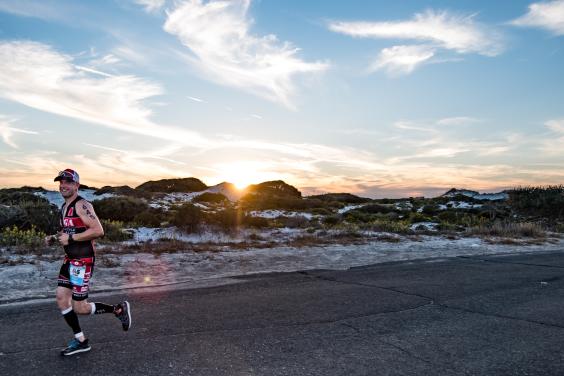 Ironman 70.3
11212 Front Beach Rd.
Panama City Beach, FL 32407

Thanks to a beautiful seashore and perfect temperatures, IRONMAN Florida is a magnet for triathletes and their families.
One of the most storied North American races, IRONMAN Florida began in November 1999. It takes place in Panama City Beach, which is known for pristine beaches and moderate fall temperatures. Just as the summer season winds down, it's the perfect time of year to visit northwest Florida—and the event is as much a destination vacation as it is a race.
The swim takes place in the Gulf of Mexico, where athletes will have a short beach run in between laps. Waters are typically in the mid-70s, allowing triathletes to wear wetsuits. The two-loop swim course gives spectators a bird's eye view of the entire course.

After exiting the water, athletes are challenged by a fast, flat, one-loop bicycle course. The terrain pushes the body in a way that most athletes are not accustomed to: the absence of rolling hills or steep inclines forces consistent pacing. Winds are typically light in the morning but become more challenging later in the day. With daylight savings time beginning the following day, early sunset reminds athletes that the bicycle cut-off is soon approaching.
The two-loop run course, while flat, has many turns throughout the local neighborhoods. In the spectator-friendly area, thousands of residents and visitors emerge for fall get-togethers while supporting the competitors. The course also winds through St. Andrew's State Park, a favorite among participants for its shaded areas and wildlife. After the second loop, athletes will round the last corner for the final quarter-mile to the finish.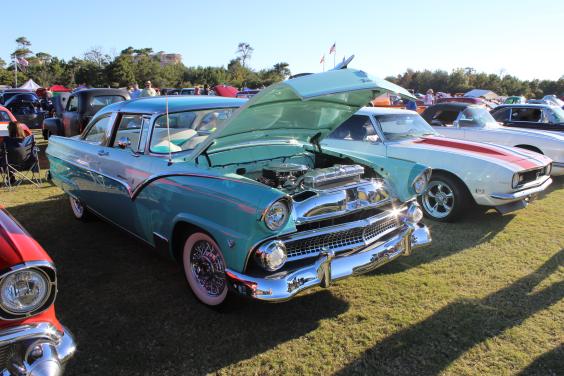 Emerald Coast Cruizin' Car Show
600 Pier Park Drive
Panama City Beach, FL 32413
(662) 576-1448
They're fast, they're furious, and they're getting revved up for you and your friends. Make your way to Aaron Bessant Park and our classic car show in Panama City Beach, FL, to see some awesome hot rods. Aaron Bessant Park is located at 500 West Park Drive. We are just across from Frank Brown Park in Pier Park, just one block away from the beach! This event is positioned on 17 acres of luscious green grass, with sidewalks, shade trees, park benches, and clean air-conditioned restrooms. Emerald Coast Cruizin' features a center stage to host live music and show awards. Ladies, Pier Park offers over 125 stores for fabulous shopping right next door! You will not want to miss this event! Make plans now for Emerald Coast Cruizin'!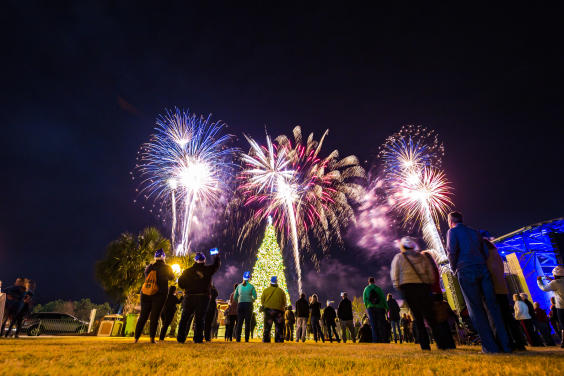 Beach Home for the Holidays
600 Pier Park Drive
Panama City Beach, FL 32413

Create new holiday traditions this year in Panama City Beach! Thanksgiving Thursday may be the time for turkey, but that Friday, Santa Claus is coming to town! Beach Home for the Holidays waves goodbye to fall and sets the stage for the most magical month of the year. This year, Beach Home for the Holidays will be a Christmas Tree lighting followed by fireworks. Both will be held virtually through Facebook Live. Decorations will be set up around Aaron Bessant Park for people to enjoy through the month of December!